---
It has been a journey finding someone to come clean our carpets. I'm so glad we finally went with ASI! I truly felt like our place had no hope—I mean, just *look* at the stains in the before photo!!! But the after photo says it all. My heart truly burst with sheer joy when Anthony & Shawn were done cleaning the carpets in my home. Every room's carpets look this good. Highly recommend—a job well done, for a totally reasonable price.

– Irina H. On Thumbtack
---

I've had carpet cleaning before but never as great as these two men performed. I paid a slight bit extra for pet treatment but it was well worth the small cost to have peace of mind that everything is practically new again. They were punctual, courteous and very efficient. they were both very personable and understood my needs explaining to me what steps they had taken for preparation and cleaning. As a pet owner there are always some problems but they took care of removing any stains and odor beyond what I expected. It is nice to have worked with a local company. I would definitely recommend them to anyone looking for a great efficient carpet cleaning service at a reasonable price.

– Peggy D. On Thumbtack
---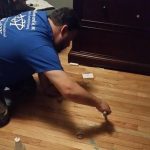 Never will I ever run out of construction paper again. Emily's floor was one GIANT art project made with nail polish. UGH!! Anthony Almerigi saved the day and my meltdown by coming and cleaning it up without hurting the wood floors. Thank you so much, you saved my day!
---

Thorough, thoughtful, responsive, flexible, fair.
Our church's cleaning requirements are driven by a sometimes-complicated schedule of church events, seasonal needs, and, of course, the budget. Anthony and Son works closely with us to accommodate our schedule and our budget, often recommending options and solutions. We couldn't be more pleased!
Congregational United Church of Christ
Arlington Heights, IL

---

I just wanted to take a minute to say that Anthony And Sons is a refreshing change from other services these days. We have used other carpet cleaners in the past but Anthony & Sons the best. The economy is tight now so it feels good to get consistent, excellent service from someone you can trust at a fair price. I call that value.
Thanks,
Tony Galiotto
---

Dear Anthony,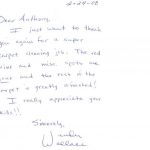 I just wanted to thank you again for a super carpet cleaning job.  The red wine and misc. spots are gone and the rest of the carpet is greatly refreshed!
I really appreciate your skills!!
Sincerely,
Wendy Wallace
---

Great customer service!
Great experience! Arrived promptly. Very personable. Professional! Did a wonderful job on the windows at my downtown Des Plaines business. Will have them back to clean my carpets. I highly recommend Anthony!!!
Michelle D.
---

These guys are good!
They arrived on time and did a great job cleaning the carpets. Very considerate of surroundings. I'm extremely happy with services and highly recommend them to friends and neighbors.
Vic K.
---

Great company that truly cares about the end result!
Anthony and son shampooed the carpets in my new car after a road trip. Unfortunately my dog got nervous on the trip and urinated on the carpet. We called and Anthony and son came out and not only cleaned the carpet, but cleaned the back side of the interior carpet to make sure that the area was cleaned and perfect. It's not every day you find a company that takes such pride in performing excellent work.
Bobbi P.
---

Great work!
My dirty, greasy, waiting room floors at my auto shop now look like new.  I had no idea how involved the cleaning process was.  At the end he waxed/sealed them.  Look shiny and new.  Will be using ASI services every few weeks to keep them looking like new.  Thanks ASI.  My waiting room looks great!
Chuck R.
---

EXCELLENT SERVICE!
I was impressed with their team that showed up on time, took great care with helping me move some heavier pieces prior to cleaning and were super diligent with the cleaning of the carpet and the clean up afterwords. I have used them several times and always get great service.
Marsha P.
---

My Floors Are Like Brand New!
I am expecting a baby and I wanted everything in new shape. Anthony and Son definitely made that happen! The floors looked wet they were so shiny! And my nursing chair was like brand new! Way better than I could have ever expected. We are absolutely going to hire them again! Would strongly recommend!
Mary H.
---

Great business to work with.  They know their trade and get the job done quickly and at incredibly fair rates.  I'd recommend ASI to anyone looking for floor cleaning service.
Jay C.
---
See more reviews On Thumbtack
If you are happy with the work we did for you, email us your testimonial